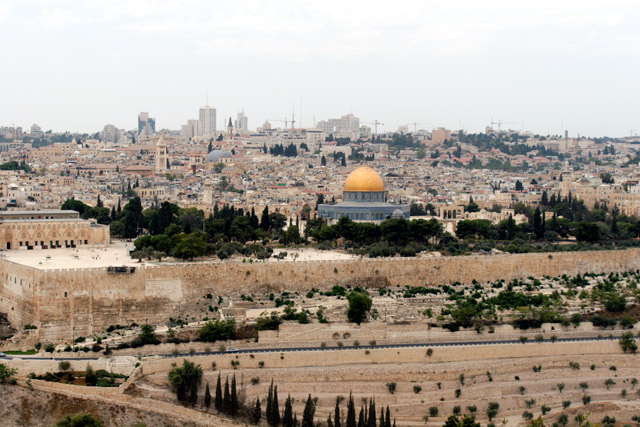 In this photo is a view of Jerusalem from the Mount of Olives. The Bible tells us that when Jesus comes again He will descend upon the Mount of Olives, putting an end to the final battle on earth — the Battle of Armageddon — and setting up His Millennial Reign.
Is The Second Coming Near?
Will Jesus Return 2000 Years After His Death?
Will He Return Within My Lifetime?
by Steve Nordholm
Today we hear a lot about the Mayan Calendar predicting the end of the World on December 21, 2012. Even Hollywood couldn't resist producing a big-budget, science-fiction motion picture called '2012' starring John Cusack about this event. On further investigation many archaeologists and historians have found that the Mayan Calendar is only ending a Calendar Cycle in 2012 which would simply begin a new cycle after that. For example, a recent discovery of the oldest known Mayan Calendar in Guatemala finds that the calendar continues around 4,000 years beyond 2012. This find dispels any Mayan prediction of the end of the World in 2012.
As Christians, of course, we should not be looking to pagan sources, Mayan or otherwise, for clues about the future, but rather to the Bible itself. So this brings up the question: "What does the Bible have to say about when Jesus is expected to return to Earth during the Battle of Armageddon?" In answer to this question the Bible points out two very significant time posts that help us narrow down the probable season of Jesus' soon return to Earth.
Jesus' Return Should Not Come As A Surprise For Believers
The Bible tells us that the Day of the Lord will comes suddenly and unexpectedly upon the people of earth in general, but for believers who are alert and sober that day should not come as a surprise. As believers we should know when the time is near, even though we do not know the exact day or the exact hour. In support of this claim take a look at what the Bible tells us in First Thessalonians chapter five and beginning with the first verse:
"Now as to the times and the epochs, brethren, you have no need of anything to be written to you. For you yourselves know full well that the day of the Lord will come just like a thief in the night. While they are saying, "Peace and safety!" then destruction will come upon them suddenly like labor pains upon a woman with child, and they will not escape. But you, brethren, are not in darkness, that the day would overtake you like a thief; for you are all sons of light and sons of day. We are not of night nor of darkness; so then let us not sleep as others do, but let us be alert and sober."
— 1 Thessalonians 5: 1 – 6 (NASB)
The Parable OF The Fig Tree
The Bible gives many clues as to when Jesus' Second Coming is near such as increases in wars, and rumors of war, famines, earthquakes and pestilences around the world. These events signal the time is close, but things will get much worse on Earth before He comes again. On viewing Herod's Temple in Jerusalem, a magnificent example of architectural mastery at that time, Jesus tells his disciples that the day will come when that magnificent Temple will be destroyed. This prompted Jesus' disciples, as they were later sitting on the Mount of Olives overlooking Jerusalem, to ask Jesus about the time and sign of His coming and of the end of the age as we see here in the twenty-fourth chapter of the Book of Matthew.
' As He was sitting on the Mount of Olives, the disciples came to Him privately, saying, "Tell us, when will these things happen, and what will be the sign of Your coming, and of the end of the age?" '
— Matthew 24: 3 (NASB)
Jesus tells his disciples about many terrible things that will happen at the end of the age and then says the following:
' "But immediately after the tribulation of those days THE SUN WILL BE DARKENED, AND THE MOON WILL NOT GIVE ITS LIGHT, AND THE STARS WILL FALL from the sky, and the powers of the heavens will be shaken. "And then the sign of the Son of Man will appear in the sky, and then all the tribes of the earth will mourn, and they will see the SON OF MAN COMING ON THE CLOUDS OF THE SKY with power and great glory. "And He will send forth His angels with A GREAT TRUMPET and THEY WILL GATHER TOGETHER His elect from the four winds, from one end of the sky to the other. "Now learn the parable from the fig tree: when its branch has already become tender and puts forth its leaves, you know that summer is near; so, you too, when you see all these things, recognize that He is near, right at the door. "Truly I say to you, this generation will not pass away until all these things take place. "Heaven and earth will pass away, but My words will not pass away. "No one knows about that day or hour, not even the angels in heaven, nor the Son, but only the Father." '
— Matthew 24: 29 – 36 (NASB)
I want you to pay special attention to the following words from the 24th chapter of Matthew:
"Now learn the parable from the fig tree: when its branch has already become tender and puts forth its leaves, you know that summer is near; so, you too, when you see all these things, recognize that He is near, right at the door. Truly I say to you, this generation will not pass away until all these things take place."
I first want you to realize that Israel is often referred to in the Bible under the symbol of a fig or a fig tree. In this example from Jeremiah Israel is referred to as good and bad figs.
' After Nebuchadnezzar king of Babylon had carried away captive Jeconiah the son of Jehoiakim, king of Judah, and the officials of Judah with the craftsmen and smiths from Jerusalem and had brought them to Babylon, the LORD showed me: behold, two baskets of figs set before the temple of the LORD! One basket had very good figs, like first-ripe figs, and the other basket had very bad figs which could not be eaten due to rottenness. Then the LORD said to me, "What do you see, Jeremiah?" And I said, "Figs, the good figs, very good; and the bad figs, very bad, which cannot be eaten due to rottenness." Then the word of the LORD came to me, saying, "Thus says the LORD God of Israel, 'Like these good figs, so I will regard as good the captives of Judah, whom I have sent out of this place into the land of the Chaldeans. 'For I will set My eyes on them for good, and I will bring them again to this land; and I will build them up and not overthrow them, and I will plant them and not pluck them up. 'I will give them a heart to know Me, for I am the LORD; and they will be My people, and I will be their God, for they will return to Me with their whole heart. 'But like the bad figs which cannot be eaten due to rottenness—indeed, thus says the LORD—so I will abandon Zedekiah king of Judah and his officials, and the remnant of Jerusalem who remain in this land and the ones who dwell in the land of Egypt. 'I will make them a terror and an evil for all the kingdoms of the earth, as a reproach and a proverb, a taunt and a curse in all places where I will scatter them. 'I will send the sword, the famine and the pestilence upon them until they are destroyed from the land which I gave to them and their forefathers.'" '
— Jeremiah 24: 1 – 10 (NASB)
And make note also of this verse from Hosea chapter 9 and verse 10 concerning Israel being represented by figs and a fig tree:
"I found Israel like grapes in the wilderness; I saw your forefathers as the earliest fruit on the fig tree in its first season."
— Hosea 9: 10 (NASB)
So Jesus says that when the fig tree (Israel) puts out its leaves (becomes a Nation again) you know that the time of Jesus' return is very near. In 70 AD the Roman General Titus took Jerusalem and burned its Temple. Most of the inhabitants of the city starved under the long siege. As the Roman Army entered the city the blood flowed so thick it put out fires. Israel ceased to be a Nation at this time and for the next almost 2,000 years. Then in 1948, against all odds and with the help of God, Israel became a Nation again. The Fig Tree of Israel began to put out its leaves signally that Jesus' return is very near.
Next, in Matthew chapter twenty-four Jesus says that the generation that sees these things will not pass away (all die) until all the things spoken of in this chapter take place. So as an outside date for Jesus' return we could say that very few ever live past 120 years. We could say that most of the generation born in 1948 will be dead by 100 years of age. Many will be dead at 80 years of age. So from 1948 we get the following time projections for Jesus' return.
1948 +  80 years = 2028
1948 + 100 years = 2048
1948 + 120 years = 2068
So this gives us a 40 year window for Jesus' return from the year 2028 to the year 2068 with the year 2048 sitting right in the middle of that 40 year window. I am not giving these projections as any kind of absolute. Jesus could return before or after this window in time. These projections are probable time keys only and are based on the fig tree representing Israel, and the fig tree putting forth its leaves representing Israel becoming a Nation again in 1948. What we can see from this is that we do not know the exact day or hour of His Coming, but we know the time is near so we need to be sober and alert and to watch and pray and be ready always for His Return.
Jesus Returns 2000 Years After His Crucifixion and Resurrection
Another time key we have for Jesus' return taken from the Bible record is based on the 7 Day/ 7 Thousand Year history of the Earth. In the Book of Genesis there were 7 days of Creation. Since the Second Century A.D. various bodies of the New Testament Church have drawn a conclusion that the 7 days of Creation are a parallel to the 7 thousand years of Earth history. The Bible tells us that to God one day is as a thousand years, and a thousand years is as one day. On this, see the passage below from Second Peter Chapter Three:
"But do not let this one fact escape your notice, beloved, that with the Lord one day is like a thousand years, and a thousand years like one day. The Lord is not slow about His promise, as some count slowness, but is patient toward you, not wishing for any to perish but for all to come to repentance. But the day of the Lord will come like a thief, in which the heavens will pass away with a roar and the elements will be destroyed with intense heat, and the earth and its works will be burned up. Since all these things are to be destroyed in this way, what sort of people ought you to be in holy conduct and godliness, looking for and hastening the coming of the day of God, because of which the heavens will be destroyed by burning, and the elements will melt with intense heat! But according to His promise we are looking for new heavens and a new earth, in which righteousness dwells."
— 2 Peter 3: 8 – 13 (NASB)
To further support this theory, in the Book of Revelation we find that the Millennium (the time when Israel is restored and the saints reign with Christ over the earth) lasts for a thousand years. The Millennium is the seventh day or the seventh period of a thousand years in Earth's history.
"Then I saw an angel coming down from heaven, holding the key of the abyss and a great chain in his hand. And he laid hold of the dragon, the serpent of old, who is the devil and Satan, and bound him for a thousand years; and he threw him into the abyss, and shut it and sealed it over him, so that he would not deceive the nations any longer, until the thousand years were completed; after these things he must be released for a short time. Then I saw thrones, and they sat on them, and judgment was given to them. And I saw the souls of those who had been beheaded because of their testimony of Jesus and because of the word of God, and those who had not worshiped the beast or his image, and had not received the mark on their forehead and on their hand; and they came to life and reigned with Christ for a thousand years. The rest of the dead did not come to life until the thousand years were completed. This is the first resurrection. Blessed and holy is the one who has a part in the first resurrection; over these the second death has no power, but they will be priests of God and of Christ and will reign with Him for a thousand years."
— Revelation 20: 1 – 6 (NASB)
We know that our Gregorian Calendar is based on Jesus' birth in 1 AD. That event occurred a little over 2,000 years ago, or 2 days ago according to our theory. From Adam to Jesus was 4,000 years or 4 days of 1,000 years in time. In the Bible it is possible to count backwards in time from Jesus to Adam. No matter how these calculations are done, based on the Hebrew Masuretic Text (the most common text used for the translation of the Old Testament in the Christian Bible), the Biblical record is accurate enough to arrive at a date for the creation of Adam (by God directly from the dust of the ground) at around 4000 BC give or take maybe one or two hundred years. I don't want to get into how these calculations are made in this article, but I do want to point out that all the different Masuretic Text based calculation methods result in a date for the creation of Adam of around 4,000 years, or 4 days before the birth of Christ. So we have in very simple terms:
Creation of Adam: 4000 BC or 6,000 years ago (6 days ago).
Birth of Jesus: 1 AD or 4,000 years (4 days) after Adam and a little over 2,000 years ago (2 days).
Millennium: 1,000 years (1 day) into the future (7th day).
Next, I want you to look very closely at the following passage of scripture:
"Come, let us return to the LORD.
For He has torn us, but He will heal us;
He has wounded us, but He will bandage us.
"He will revive us after two days;
He will raise us up on the third day,
That we may live before Him.
"So let us know, let us press on to know the LORD.
His going forth is as certain as the dawn;
And He will come to us like the rain,
Like the spring rain watering the earth."
— Hosea 6: 1 – 3 (NASB)
This prophecy concerns Israel. God says he will revive Israel after two days and raise Israel up in the third day. Many commentators say this passage is a reference to Jesus' Resurrection on the third day, but you really have to force fit that interpretation into this passage. I believe that what is being said here is that after 2,000 years (2 days) of Israel being without a nation and suffering many things and being scattered among the nations that Jesus will restore them in the third day of 1,000 years, or in the Millennium, the thousand year reign of Christ.
So for the time of Jesus' Return I want to calculate the 2,000 years that transpire from His First Coming to His Second Coming. I believe, from the Book of Daniel chapter nine and because Jesus' Death and Resurrection are the most important events in human history, that the 2,000 year count should begin not with Jesus' birth, but rather with his death and resurrection in 33 AD. The calculations of time in the first 4,000 years of Earth's history have a margin of error associated with them. So it is possible that the exact year of Adam was 4,000 back from Jesus' death on the Cross. Scientists from Romania's Astronomic Observatory Institute have concluded from astronomical records and details mentioned in the Bible that Jesus died at 3 PM on April 3, 33 AD. So if we move forward from this date we arrive at the year 2033 as the possible year of Jesus' Second Coming.
Be Ready And Remain Ready For Jesus' Return To Earth
I want to point out again that this calculation is not absolute. It is based on a number of assumptions, all of which have to be absolutely correct to arrive at the date of 2033 AD for Jesus' Return. Now 2033 AD does fit within our earlier window of 2028 – 2068 AD for His Return. In fact we can probably narrow our earlier window of 40 years to one of only 20 years from 2028 – 2048 AD. So again, while we do not know the exact day or the exact hour of Jesus' Return, we can and should know when His return is close.
From the study we have done so far we know that His Return is very close. So be vigilant. Watch and pray. Keep yourself close to Jesus. Be much in His Word. Be much in prayer. Be Ready for His Return for it will be soon. It may be a number of years off yet, but the time of His Return is very close. Prepare yourself now and remain ready until Jesus comes again.